Shiba Inu (SHIB) finds itself amidst a contrasting scenario. Holders of the meme coin and newly emerging addresses are taking conflicting positions, leading to a state of uncertainty.
Some long-standing holders remain steadfast in their belief in the token's potential, having weathered its volatile journey thus far. On the other hand, fresh addresses, intrigued by the recent buzz surrounding SHIB, bring with them a mix of skepticism and curiosity. This contrasting sentiment within the community creates a dynamic landscape, ripe with possibilities.
However, there remains a glimmer of hope as the trust of whales and the potential for wider adoption may play crucial roles in shaping the future of the token.
New Addresses Up, Signaling Growing Interest In SHIB
The Shiba Inu ecosystem recently witnessed a notable development as the number of new addresses on the SHIB network reached 2,538 on May 26, according to Glassnode. This figure represents the highest influx of new participants or investors into the SHIB ecosystem since February. 
Such a surge in new addresses indicates a growing interest in the SHIB token and potentially impacts the market dynamics. Furthermore, it serves as evidence of increased demand for the token within the crypto community.
Source: Glassnode
Long-Term Shiba Inu Holders Face Challenges
While the entry of new participants is a positive sign for the SHIB ecosystem, the same cannot be said for long-term holders of the token. IntoTheBlock data reveals that approximately 78% of SHIB holders currently find themselves in a position of loss.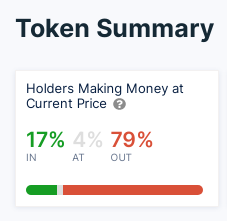 Source: IntoTheBlock
This indicates that the majority of long-term SHIB holders have seen a decline in the value of their investments, which can be disheartening for those who have been holding onto the token for an extended period.


Source: Coingecko
At present, the price of SHIB stands at $0.00000877, as per CoinGecko. However, recent market movements have caused some fluctuations in its value. Over a span of 24 hours, SHIB experienced a subtle decline of 0.8%, followed by a week-long decline of 3.0%. 
SHIB total market cap at $5.07 billion on the daily chart at TradingView.com
Long-Term Value In The Meme Coin
The current surge in new addresses and sustained interest from Ethereum whales in SHIB reflects a contrasting narrative to its abysmal performance over the past year and in the preceding months. 
Despite this historical underperformance, insights from a crypto market analysis platform revealed that a staggering 80% of SHIB holders possess significant amounts of tokens in their portfolios. Additionally, data from WhaleStats demonstrated that SHIB remained the most frequently traded token by Ethereum whales within the past 24 hours.
These findings suggest that despite SHIB's lackluster performance, there remains considerable interest and confidence among influential market players, such as Ethereum whales. This sustained interest from these cohorts implies that they view SHIB as a potentially valuable asset to hold in the long term. 
(This site's content should not be construed as investment advice. Investing involves risk. When you invest, your capital is subject to risk)
-Featured image from MIT Sloan Management Review